Thermotex Model Descriptions


Thermotex models for every need: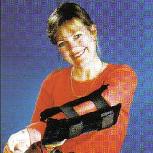 Perfect for those who suffer from tennis elbow, carpal tunnel syndrome, or other problems caused by injuries to the hands, wrists or elbows. Consists of two smaller pads joined together for better flexibility and comfort of fit. (Power rating: 24 watts)
The Thermotex Foot Therapy System can be used for heat therapy or for conveniently warming cold feet. The system comprises 1 - 11 x 13 inch element which the bottoms of the feet rest upon. The removable cloth insert makes cleaning a breeze. (Power rating: 35 watts)

If knee/leg injuries are keeping you from the exercise you want to and know you should be doing, this may help. Also of the two-pad design, it is best suited for treatment of knee, thigh or calf injuries. (Power rating: 24 watts)
Get back to your tennis game or your yard work. Helps reduce pain from frozen shoulder and rotator cuff injuries. The shoulder model is comprised of two individual pads in a flexible configuration to treat the front and back of the shoulder. (Power rating: 24 watts)

Effective at repetitive strain injuries of the wrist and forearm such as carpal tunnel syndrome. This model uses 1 - 2"x 8" infrared insert. (Power rating: 8 watts)
If you have an aching back, this will feel so soothing! A single element device ideally suited to heavily-muscled areas of the back. (Power rating: 35 watts)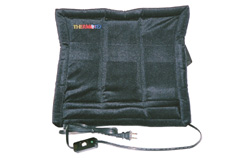 The most popular and versatile model is the Platinum. The Platinum, the ultimate in effectiveness and comfort, includes three individual elements combined in one unit. The adjustable straps allow you to fit it comfortably almost anywhere on the body, and the flexibility allows better isolation of the area to be treated. (Power rating: 36 watts)

Designed for use on a treatment bed, the professional unit will covers a patient's entire back. It is ideal for chiropractic or therapy practitioners. Two of the 6 elements in this unit are positioned to treat the neck and shoulders, a larger element covers the spine and 3 smaller elements curve nicely around the hips. (Power rating: 95 watts)
---
---
Keep up to date with
valuable insights into
pain management via
a healthy lifestyle.
Receive the monthly
Natural Pain Relief
Guide Newsletter.
News articles, health
tips, specials, freebies.
Enter your email and name
in the form to the right.
---