A Super Green Food is About the
Best Way to Get Chlorophyll and Many Other Nutrients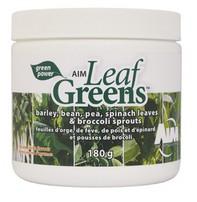 LeafGreens is a Super Green Food that leaves (pun intended) the others behind.
Animal-based protein supplements have a problem because they are high in sulphur-containing amino acids which acidify the body.
Most plant-based protein powders have been made from plant seeds, beans or grains which are deficient in lysine and methionine. This extraction requires the use of harsh chemicals that actually degrade the protein.
The best source of protein is to use suitable leaf sources. The result of much research and development is AIM LeafGreensTM, a leaf-based protein powder that is better than any other protein supplement powder on the market.
AIM selected four types of leaves to use for this important powder: barley leaf, faba bean leaf, field pea leaf and spinach leaf. Each container holds the dried (at low temperature) juice powder from 22 lbs of leaves. This is a powerful product. More sources of information below.
Read the updated information on Leaf Greens. - in June 2010 a new and powerful ingredient was added.
More Detailed LeafGreens Information
Read an article with more information about LeafGreens. and you will see why this product is a Super Green Food that offers more than any other.
Quercetin is a powerful antioxidant that is abundant in LeafGreens. Read about quercetin benefits and the relatively few quercetin side effects that only concern a few special cases.
Each 6-gram serving of LeafGreens contains 31.5 mg of naturally-occurring quercetin from pea, bean and spinach leaf juice. Natural quercetin from plants is water soluble and highly bioavailable. Synthetic quercetin dihydrate found in standardized supplements is not water soluble and thus less bioavailable than that found in LeafGreens.
Listen to an audio presentation that explains lots more about Leaf Greens.
Note that there is a segment on another product (CalciAIM) before Leaf Greens is discussed. The audio only works in the Internet Explorer browser.
See the company datasheet for this product:
(Sorry, once again, only Internet Explorer)
Canadian English version
Canadian French version
United States version
Shop for LeafGreens and other AIM Nutritional Products.
Here is another video that I made about LeafGreens:
---
---
Keep up to date with
valuable insights into
pain management via
a healthy lifestyle.
Receive the monthly
Natural Pain Relief
Guide Newsletter.
News articles, health
tips, specials, freebies.
Enter your email and name
in the form to the right.
---
"Products of The AIM Companies have not been evaluated by the U.S.
Food and Drug Administration (FDA) and are not intended to diagnose,
treat, cure, or prevent any disease or illness. Results may vary per person."
"All names, products, information, graphics, and logos, etc. related to AIM
products and programs are the property of AIM International, Inc. - Used with
permission."