Need an Immune System Boost?
Here is one Good Way to Do It

An immune system boost can make a difference to your health and help you get through the winter months. Here is a description of AIM's antioxidant formula Proancynol 2000 that is so effective in fighting free radicals.

AIM Proancynol® 2000 Better than Ever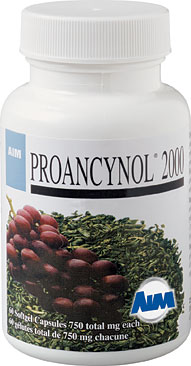 It's winter...cold and flu season. And this year an even greater threat to your health is out there. Classified by the World Health Organization as a pandemic, the highly-contagious H1N1 flu virus causes a respiratory illness that can lead to death, especially for those whose health is already compromised. But by taking AIM Proancynol® 2000, you can give your immune system a boost against attack with a powerhouse of seven antioxidants.
Antioxidants
Antioxidants are your key defense against free radicals-unstable oxygen molecules associated with most diseases and the major cause of damage to body tissue, genetic material, and cell membranes. If you think of free radicals as gun-carrying molecules that move through your body forcing other molecules to join a destructive gang, then antioxidants are the peacekeepers that disarm free radicals and turn them into productive molecules for your immune system. Turning the bad guys into good guys is best left to antioxidants.
You can maintain a healthy immune system with the antioxidants in foods such as fruit and vegetables. However, with less variety to choose from during the winter months, you have a lower intake of antioxidants, which may be a factor in the rise of cold-weather illnesses. A strong immune system enables the body to ward off illnesses year-round, and one of the best ways to keep it strong is to maintain a daily intake of antioxidants.
AIM Proancynol® 2000
Your immune system gets an even bigger boost when you take a variety of antioxidants. Proancynol 2000 provides seven. Over the winter months, you can reduce the risk of getting a cold or the flu with antioxidants such as green tea extract, grape seed extract, and selenium, which enhance the immune system. Proancynol 2000 also provides rosemary extract (anti-inflammation), N-acetylcysteine (supports the respiratory system), alpha-lipoic acid, and lycopene-antioxidants that target specific free radicals and body tissue. Antioxidants work better together, like a team of peacekeepers protecting you against a destructive gang of free radicals.
Without the protection of antioxidants, your body is subjected to long-term free radical damage, which is linked to the irreversible, physical signs of aging and age-related illnesses such as cardiovascular disease, cancer, and Alzheimer's. Therefore, the beneficial antioxidants in Proancynol 2000 go far beyond the ailments of the winter months.
AIM has more to protect your health. The AIM Garden Trio®-AIM BarleyLife®, AIM Just Carrots®, and AIM RediBeets®-supplies you with additional antioxidants that help to keep you healthy through the cold weather. The maximum amount of nutrients from the juice of barley grass, carrots, and red beets produce AIM whole food concentrates. The Garden Trio of nutrient-dense supplements provides your body with a daily source of absorbable vitamins, minerals, enzymes, phytochemicals, protein, amino acids, and chlorophyll. AIM FloraFood® (NPN 800011775) helps to balance the friendly intestinal flora in your digestive tract, so when any bug attacks, you'll be protected.
With AIM on your side, you never have to brave the winter blast on your own.
The above article was reprinted with permission of AIM CanadaTM, Vancouver, British Columbia.
---
So there is another good way to deal give your immune system a boost. To Buy Proancynol 2000 please read this paragraph first then click the link at the end. It will take you to the AIM store where you may click on the top "Products" link to shop for Proancynol and other quality health products. If you purchase any combination of products with a point value of at least 50 (Proancynol is 25 points) you will receive a free wholesale membership which gives you wholesale prices. There is no requirement to buy again. Here is the link: Buy Proancynol
"Products of The AIM Companies have not been evaluated by the U.S.
Food and Drug Administration (FDA) and are not intended to diagnose,
treat, cure, or prevent any disease or illness. Results may vary per person."
"All names, products, information, graphics, and logos, etc. related to AIM
products and programs are the property of AIM International, Inc. - Used with
permission."
---
---
Keep up to date with
valuable insights into
pain management via
a healthy lifestyle.
Receive the monthly
Natural Pain Relief
Guide Newsletter.
News articles, health
tips, specials, freebies.
Enter your email and name
in the form to the right.
---