Heritage Mills
Rock Creek, BC
250-446-2522
Mel and Eileen Steinke
Producers of fine flour from locally-grown grain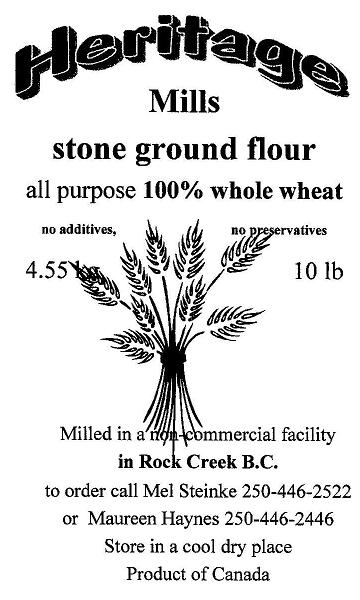 ANNOUNCING (SUPER FINE) HERITAGE STONE GROUND ALL PURPOSE FLOUR
It is a privilege to introduce to you our All purpose, Stone Ground 100% Whole Wheat Flour milled in Rock Creek.
This "all of the wheat" Stone Ground Flour has been milled by original trained Stone Burr millers.
We believe white flour to be a poor representation of wheat, since it has less than 20% of the digestible nutrients of the wheat.
It is our aim and goal to produce flour that has all the goodness of the grain and yet has the baking quality to fill the all-purpose needs of the household for the making of breads, pastries, cookies, pancakes, muffins, cakes and biscuits, etc. (with the exception of white cakes because this flour is not white)
Here at Heritage we use the dry-milling method. When the grain is milled, no moisture is added. Also, because of the dry-milling method, more of the moisture that is in the wheat evaporates, which gives the flour a very good keeping quality without any preservatives or anti-caking agents added. Another advantage of this milling method is that the free oils of the wheat, especially of the wheat germ, are easily emulsified with the dry flour dust. Therefore, when the moisture content of the flour is low and the free oil is emulsified into the flour dust, this 100% whole wheat flour will remain sweet for a longer period of time if stored in a cool dry place. Since this flour is drier, it is lighter, so you get more flour per bag, which means you will get more baked goods from each bag.
Yours for better and more healthful baking, Mel Steinke and Jamie Haynes
To order yours call:
Mel 250-446-2252
Maureen 250-446-22466
Heritage Mills
3940 Hwy 3
Rock Creek, B.C. V0H 1Y0
Milled in a non-commercial facility
---
Prices
---
Flour specs
---
---
Photos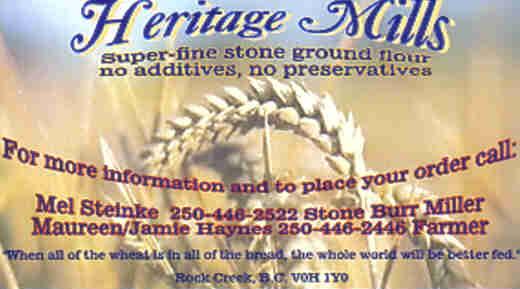 ---
About us
---