An Anti-Inflammatory Diet
Could be Your Ticket to Feeling Better
The amount of inflammation in your body is dependent on a number of factors such as:
low activity level
insufficient sleep
excessive stress
poor food choices
These factors are cumulative and additive. The more of these factors you have and the longer you have them, the greater the risk for disease.
Early in life, these factors are so low that you might not even be aware that you have any inflammation in your body. Our bodies are capable of doing a good job of controlling the inflammation. But often our poor lifestyle choices eventually overwhelm the system. Then you begin to realize it is a problem. Then you may begin to think that you need an anti-inflammatory diet or some other changes.
A good first step is to get your C-reactive protein (CRP) levels tested. C-reactive protein is produced by the liver, and the level of CRP rises in proportion to the amount of systemic inflammation in the body. Ask your doctor about having a blood test to determine your level. And because diet can play a large role in how much or how little inflammation you have, you may want these levels looked at by a registered dietician who, if needed, can help you formulate an appropriate eating plan to get you on an anti-inflammatory diet.
People who are suffering pain due to inflammation often choose the traditional medical path which includes non-steroidal anti-inflammatory drugs (NSAIDs), steroids, and even joint-replacement surgery in extreme cases. The good news is you can simple chose an anti-inflammatory diet and other natural ways to fight inflammation without the undesirable side-effects that often result from the treatments listed above.
What You Eat Makes All The Difference
The foods we eat are a critical piece to controlling inflammation. The Standard American Diet (or S.A.D.) consists of excessive amounts of fat, sugar, meats, and processed foods. These are all capable of increasing inflammation and contributing to obesity, which itself is a cause of inflammation. By switching to an anti-inflammatory diet consisting of healthy whole foods, you can decrease inflammation and ease the pain and discomfort you are experiencing.
The first step is to avoid processed foods, foods high in sugar, and junk food whenever possible. Instead, choose fresh whole foods, especially anti-inflammatory varieties such as lean proteins, fruits, and vegetables. But choose carefully. Many vegetables and pre-packaged "health" foods can actually work against you. Use this handy list of the best and worst foods for controlling inflammation:
Anti-inflammatory foods:
Fresh whole fruits, vegetables
Bright-colored vegetables
Olive oil
Nuts, legumes and seeds
Dark green leafy vegetables
Old fashioned oatmeal
Turmeric and ginger
Inflammatory foods:
Sugar, from any source
Processed foods
French Fries
Fast Foods
White bread
Pasta
Ice Cream
Cheddar Cheeses
Snack Foods
Oils such as vegetable and corn
Soda, caffeine and alcohol
Animal products
In addition to an anti-inflammatory diet, it is also recommended that you:
Maintain your ideal weight - choose the right foods, get your exercise and your weight will want to return to normal.

Get sufficient fiber. Ideally, you should be consuming 35 grams of fiber per day.

Get better sleep - 7 to 9 hours of sleep is a must. Sufficient sleep is key to controlling systemic inflammation.

Relax more often to lower stress levels - Stress will cause inflammation. Find time to relax more often. Deal with the important items first.

Exercise on a regular basis - Good, simple exercises are walking and rebounding. Try to exercise vigorously for 15-20 minutes three times a week and add in any, even mild other exercise that you can .

Have your CRP levels tested - This simple blood test is the best indicator of the amount of systemic inflammation in your body. Have the results evaluated by a certified health care provider who can suggest the most appropriate action.
"An anti-inflammatory diet and all that is good, but isn't there something I can just take to reduce the pain?"
Do not neglect the lifestyle factors - these are the only things that can truly solve the problem. But if you are in too much pain or need the greater functionality sooner, consider a natural product that works more to actually solve the problem rather than to simply mask the symptoms.
For some good information on a great product to help battle your inflammation, click the image below (I highly recommend this product.)
About this offer: You will be sent a free bottle and only pay the shipping. The company takes your payment information and will send (and charge you for) a second bottle a month after they ship the first one. (This is an autoship trial offer.) However, you can phone them before it is shipped (I suggest 10 days before.) and cancel the autoship. The company is easy to get hold of (Phone 800-216-4908 from 8am to 12 midnight CST) and will take care of your request promptly. The difficulty some people have is being able to evaluate the product within only a couple of weeks. Of course, if you do cancel, you can always order product from them in the future. They find that enough people get pain relief and continue their autoship for a few months that offering the free trial is worth it to them. Try it today.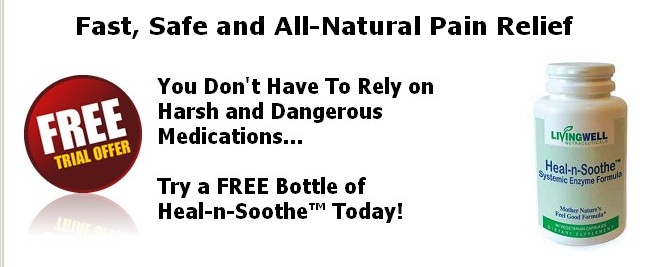 ---
---
---
Keep up to date with
valuable insights into
pain management via
a healthy lifestyle.
Receive the monthly
Natural Pain Relief
Guide Newsletter.
News articles, health
tips, specials, freebies.
Enter your email and name
in the form to the right.
---