Supplements of Nitric Oxide
Red Rush is the Best

What are the benefits you can expect from supplements of nitric oxide? Well there are actually many whether you are an athlete or not.
Introducing Red Rush a super new product especially for athletes or any one who wants to improve performance and increase health.
Red Rush, the best of supplements for nitric oxide, has so many benefits - think of it as red blood cells rushing through your body to do their job better and faster.
Quick Links:
Common Questions About Red Rush (Opens in new window).
Red Rush Testimonies by Athletes (Opens in new window).
How to Buy Red Rush (Jumps to bottom of this page).
Watch this 2-minute video explaining, in scientific terms, why beet juice enhances physical performance ... significantly.
More information about how it works.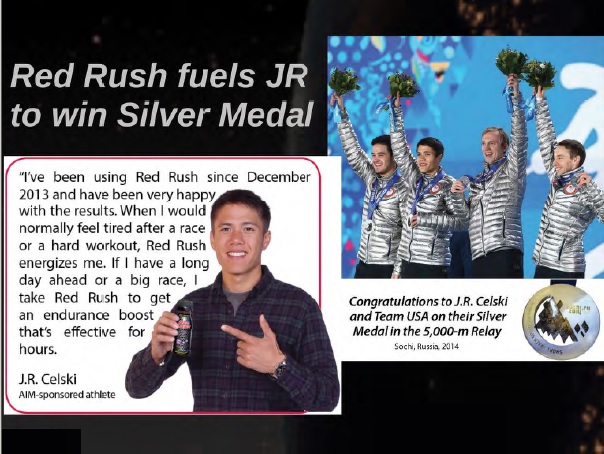 J.R. Celski, one of the pioneers in the use of Red Rush
Below are details of some things that Red Rush can do for you with references to the scientific studies that prove the effects.
Beet juice increases muscle efficiency, allowing the muscles to do the same work with less oxygen, allowing people to walk, run, or perform exercises with a lower "cost" in oxygen.
Lansley KE, Winyard PG, Fulford J, et al. Dietary nitrate supplementation reduces the O2 cost of walking and running: a placebo-controlled study. J Appl Physiol. 2011;110(3):591-600.
Bailey SJ, Fulford J, Vanhatalo A, et al. Dietary nitrate supplementation enhances muscle contractile efficiency during knee-extensor exercise in humans. J Appl Physiol. 2010;109(1):135-148.
Consuming beet juice creates a tolerance for higher-intensity exercise. Beet juice supplementation, increased blood flow to skeletal muscles by 38%.
Bailey SJ, Winyard P, Vanhatalo A, et al. Dietary nitrate supplementation reduces the O2 cost of low-intensity exercise and enhances tolerance to high-intensity exercise in humans. J Appl Physiol. 2009;107(4):1144-1155.
Enhances Athletic Performance - (from the New York Times)
"Many of the Olympians competing in London are juiced -- though not in the colloquial sense that someone is doping. Instead, the juice these athletes are imbibing is literal, with beetroot juice and tart cherry juice two of the most popular choices. ... In a series of studies in the past two years, beetroot juice has been found to enhance certain types of athletic performance. ... Today, beetroot juice is reportedly a staple among British track and field athletes at the Olympics, including Mo Farah, who won the gold medal this week in the men's 10-kilometer race, and among several of the United States Olympic marathon runners, many other nations' runners, swimmers, rowers and cyclists, and quite a few Olympic soccer players." Read More
Blood pressure stays lower during intense exercise, putting less strain on the heart.
Vanhatalo A, Bailey SJ, Blackwell JR, et al. Acute and chronic effects of dietary nitrate supplementation on blood pressure and the physiological responses to moderate-intensity and incremental exercise. Am J Physiol Regul Integr Comp Physiol. 2010;299(4):R1121-R1131.
Neurogenerative Health We should also consider using beet juice for neurodegenerative diseases. In a January 2011 study, researchers from Wake Forest University reported on changes in cerebral circulation in volunteers who had drunk beet juice. Nuclear magnetic resonance imaging (MRI) was used to measure bloodflow to various parts of the brain after participants (average age 75 years) consumed beet juice. Although the total amount of blood that reached the brains remained constant, more blood flowed to the frontal lobe white matter, especially between the dorsolateral prefrontal cortex and anterior cingulate cortex. These areas of the brain are involved in executive functioning.
Presley TD, Morgan AR, Bechtold E, et al. Acute effect of a high nitrate diet on brain perfusion in older adults. Nitric Oxide. 2011;24(1):34-42.
Oxygen Utilization. A study published in Respiratory Physiology & Neurobiology found that divers who drank beet juice were able to hold their breath 11% longer than those who drank a placebo.
For the study, a team of Swedish researchers recruited 12 volunteers who were trained in breath-hold diving. Study participants were given either a 70mL shot of beetroot juice or a placebo drink, and then asked to hold their breath as long as possible. After drinking the beetroot, participants were able to hold their breath 11 percent longer (an additional 28 seconds) than after drinking the placebo.
The study's lead author was quoted: "Apparently by enabling the body to reduce oxygen consumption, drinking concentrated beetroot juice has delivered significant extension of breath holding time. We are currently experimenting on if this may also be able to help climbers at high altitude and hope to report on the results soon." This is all because nitric oxide modifies the way the human body uses oxygen enabling it to do more with less.More info
Beets iprove running performance Nitrate ingestion improves exercise performance; however, it has also been linked to adverse health effects, except when consumed in the form of vegetables. The purpose of this study was to determine, in a double-blind crossover study, whether whole beetroot consumption, as a means for increasing nitrate intake, improves endurance exercise performance. ... Consumption of nitrate-rich, whole beetroot improves running performance in healthy adults. Because whole vegetables have been shown to have health benefits, whereas nitrates from other sources may have detrimental health effects, it would be prudent for individuals seeking performance benefits to obtain nitrates from whole vegetables, such as beetroot. More details of study
Whole Beetroot Consumption Acutely Improves Running Performance. Margaret Murphy, MS,RD,LD, Katie Eliot, MS,RD,LD,Rita M. Heuertz, PhD, Edward Weiss, PhD 2012 (Journal of the Academy of Nutrition and Dietetics Volume 112, Issue 4, Pages 548-552, April 2012)
Solution for jet lag Beets were featured in the October issue of Sports Illustrated magazine, but not for their famous and well-researched ability to improve athletic performance by about 15%. Instead, the vasodilating powers of beets were being employed to increase nutrient delivery and to allay the negative effects of jet lag on performance and muscle recovery for NBA teams that were often traveling and cloudbound.
Fat deposits in the liver are reduced by beets. Fat deposits can accumulate inside the liver ducts and block the inflow of nutrients to liver cells and simultaneously block the outflow of toxins from liver cells. This leads to a condition called fatty liver. ... Consumption of beets helps reduce fat deposits in the liver ... Read More
Beet juice may just be the most concentrated edible form of nitrate in nature. Beets may contain as much as 2,500 mg of nitrate per kilogram. Broccoli, carrots, cauliflower, cucumber, pumpkin, and even V-8 vegetable juice contain less than 1/10 this amount. Average dietary intake of nitrates for adults in the US is ~60-120 mg/d. About 80% comes from vegetables, so vegetarians may consume above-average amounts.
Bryan NS, Hord NG. Dietary nitrates and nitrites. In: Bryan NS, ed. Food, nutrition, and the nitric oxide pathway: biochemistry and bioactivity. Lancaster, PA: DEStech Pub; 2010:59-77.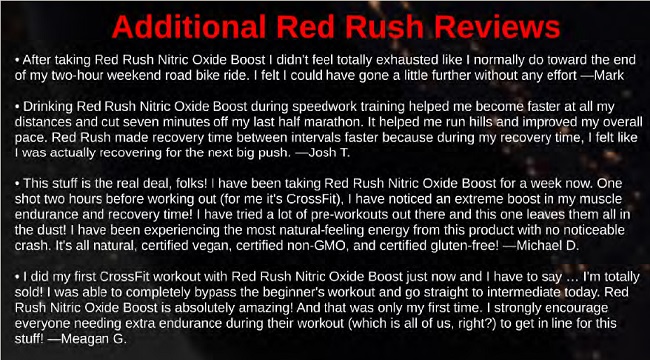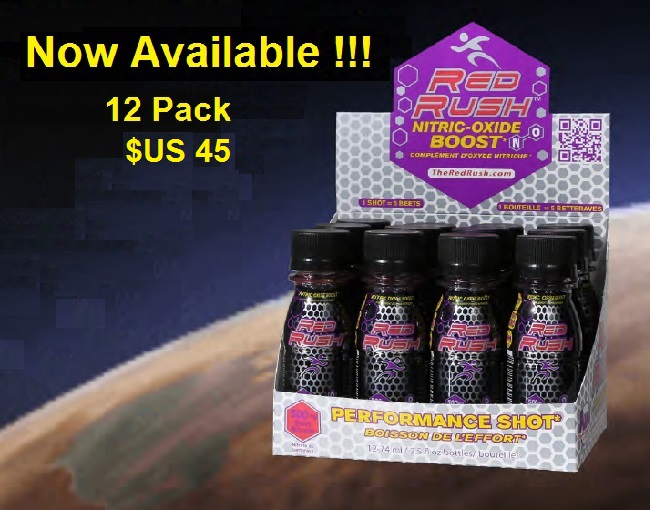 How to Buy Red Rush - Please read this paragraph first then click the link below.
It links to the AIM store where you may shop for Red Rush and other quality products.
Purchase $100 or more and receive a free membership and wholesale prices. There is no requirement to buy again.
Click: Shop for Red Rush to open the shopping page - see notes to right.
Notes about the shopping page:
Below the image of Red Rush bottles are links for various countries - pick yours.
Prices shown for a 12 pack ($US 54; $CDN 55) are retail prices.
You may obtain a membership to get wholesale prices ($US 45; $CDN 46).
If you need help, you are welcome to call me at 250-445-6352 - Ray
More information about Red Rush (see box above for ordering):
Common Questions About Red Rush
Red Rush Testimonies by Athletes