The Best Toothpaste
- Is Not a Paste at All

What is the best toothpaste? You want clean teeth and good tooth and gum health. So what will do the best job and not have any harmful effects?

Tooth Soap® is an effective tooth and gum cleanser that cuts through all the grime particulates that find their way into fissures, cracks and crevices in teeth. Tooth Soap will super clean your teeth and gums. You can feel a difference after just one brushing. You'll love how clean your teeth feel and will refuse to go back to anything with a warning label again.
Tooth Soap® is packed in natural amber glass jars to keep light from damaging the sensitive essential oils. Tooth Soap® tastes best if used within 3 months of opening the jar. (Or you can keep part of it refrigerated for longer storage). One jar will last 2 people 3 months (based on brushing twice a day) so it is very cost effective.
Patent Pending, 100% all natural soap made with 70% organic ingredients
Made with "whole foods" and high-grade, therapeutic essential oils
Cleans oils and other items off the teeth quickly leaving them perfectly clean
Leaves teeth ready to re-mineralize from nutrients in your diet
Non-toxic and doesn't need a warning label
Not tested on animals
Made in the USA / Product of America
Certified Kosher by Star-K
Does not contain these harmful ingredients:
Fluoride - poisonous
Glycerin coats the teeth and prevents re-enamelization.
Sodium laurel sulfate (SLS) has been shown in studies to cause canker sores.
What is the best toothpaste? Ask Dr. Judd
Dr. Gerard F. Judd, Ph.D. has been a researcher for 18 years and a Professor of Chemistry for 33 years. Dr. Judd recommends soap as the only effective cleanser for teeth. Dr. Judd states:
"Soap takes oils and other items off the teeth quickly leaving them perfectly clean. Toothpastes, all of them, with 60% glycerin in them require over 20 washes to remove it, thus leaving the teeth with a coating at all times. Soap takes only two rinses and it is off."
Dr. Judd refers to teeth as a crystal and states:
"The soap-cleaned crystal will enamelize better and build more perfectly. It is a given in making crystals in the laboratory that the solution they are made from must be free of all undesirable impurities, to get the beautiful perfect facets."
Plaque, on the other hand, which is a poorly-formed crystal stuck to the bottom of the enamel, is prevented and eventually removed by brushing with soap! And prevention of plaque retards gum pockets! If plaque is so bad, isn't going to the dentist a good idea so he can clean off the plaque? Dr. Judd says that:
"Dental procedures to get the badly-formed crystals off digs holes through the enamel. These cavities catch food and cause gum infection.? Don?t probe your teeth with sharp objects or those metal picks made for removing plaque. A better option is using tools made from soft materials."
Download free Letter by Dr. Judd (pdf-file)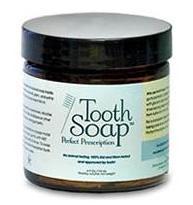 Ingredients: Saponified Olea europaea (organic extra virgin olive oil), Cocos nucifera (organic coconut oil), and essential oil.
NO added glycerin, sweeteners, silicates (sand), fluoride, dyes, stabilizers or other materials that can damage teeth.
Instructions: Put one shred on a back molar and bite down. Brush with a wet toothbrush for at least one minute so that your entire mouth is soapy. Rinse 2-3 times.
Most toothpastes, even many natural brands contain ingredients that are not helping your teeth.
So now you know the answer to the question "what is the best toothpaste?" - it is not toothpaste at all but toothsoap.
---
---
Keep up to date with
valuable insights into
pain management via
a healthy lifestyle.
Receive the monthly
Natural Pain Relief
Guide Newsletter.
News articles, health
tips, specials, freebies.
Enter your email and name
in the form to the right.
---